Apple iPad Air 9.7″ Tablet 16GB
9.7″ Retina display 2048 x 1536
Apple A7
16 GB
Front-Facing Camera FaceTime HD camera
Rear Camera 5-megapixel iSight camera
iOS
iPad, Case, Stylus pen, Non-OEM Lightning to USB Cable + charging block
$99.99
Best deal at:
eBay
Buy for best price
Set Lowest Price Alert
×
Notify me, when price drops
Set Alert for Product: Apple iPad Air 1st Gen. - 16GB - Wi-Fi, 9.7 in - Space Gray (MD785LL/A) see pics - $99.99
Show all

+
Price history
×
Price history for Apple iPad Air 1st Gen. - 16GB - Wi-Fi, 9.7 in - Space Gray (MD785LL/A) see pics

Latest updates:

$99.99 - July 3, 2021
$119.99 - May 12, 2021

Since: May 12, 2021

Highest Price: $119.99 - May 12, 2021
Lowest Price: $99.99 - July 3, 2021
Add to wishlist
Added to wishlist
Removed from wishlist
0
Last updated on September 16, 2021 9:24 pm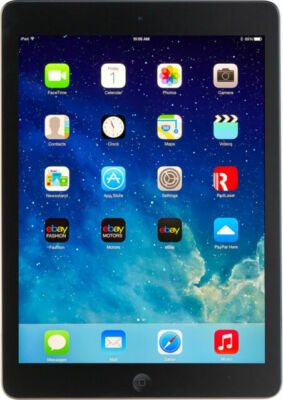 Apple iPad Air 9.7″ Tablet 16GB
Description



Does even more. Weighs even less.
The new iPad Air is unbelievably thin and light. And yet it's so much more powerful and capable. It comes equipped with the A7 chip, advanced wireless, 9.7″ Retina display, and 1.2 MP front camera and 5 MP rear camera, all in a slim and elegant casing that's easy on the eyes and comfortable in your hand. And with the most advanced mobile system and hundreds of thousands of apps available on hand, iPad Air lets you do more than you ever imagined, in more places than you ever imagined.
Information from the seller: This refurbished Apple iPad is in excellent working and cosmetic condition and is ready for your immediate enjoyment.
All-new design
Leaner. And definitely meaner.
iPad Air is impossibly thin but incredibly solid thanks to its aluminum unibody design. It dropped almost a quarter of the volume of the previous-generation iPad. So it weighs just one gravity-defying pound. But what makes iPad Air truly remarkable is that it packs so much more power and capability into its sleek enclosure. So you can do even more with it, while carrying even less with you.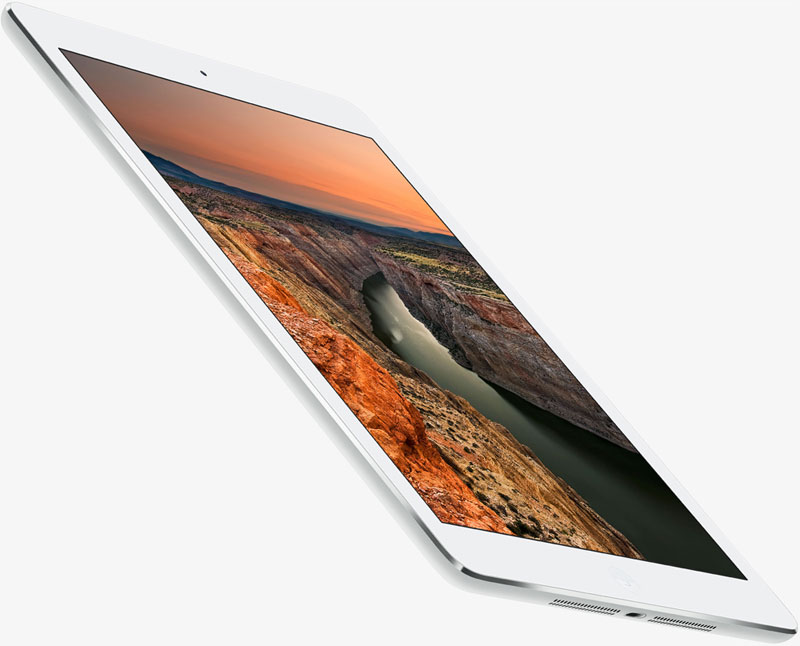 Retina Display
So much more to see. So little to hold.
iPad has always been about the display. And that's even more true with iPad Air. Because we reduced the width of the device, along with the bezels on the sides of the display. But the size of the stunning Retina display is exactly the same. So your content fills your view more than ever. With a 2048-by-1536 resolution and over 3.1 million pixels, photos and videos pop with detail and text looks razor sharp. Pixels are indiscernible. So all you see is what you want to see.
Incredible performance
It's light on everything but power.
The new Apple-designed A7 chip brings 64-bit desktop-class architecture to iPad. That means up to twice the CPU speed and graphics performance for everything you do. And the same battery runtime as previous generation to study, play, build, and create whatever you want, all you want.1
A7 chip.
The A7 chip takes iPad to new heights of power and speed. Thanks to the A7 chip, apps run faster. Games are more responsive. And everything you do with iPad Air feels quicker, because it is quicker. Up to twice as quick, in fact. But that's just the beginning. It also supports OpenGL ES version 3.0, enabling detailed graphics and visual effects once possible only on desktop computers and game consoles. And the A7 chip features 64-bit architecture, opening the door for even more robust and powerful apps. Which means even more possibilities for what you can do with iPad Air.
M7 coprocessor.
iPad Air was designed to be on the move. That's why the M7 coprocessor makes so much sense. It measures motion from your iPad Air by pulling data from the accelerometer, gyroscope, and compass. So your apps can give you a better experience based on the movement of your iPad Air. It's a task that would normally fall to the A7 chip. But M7 is more efficient at it, which saves on power.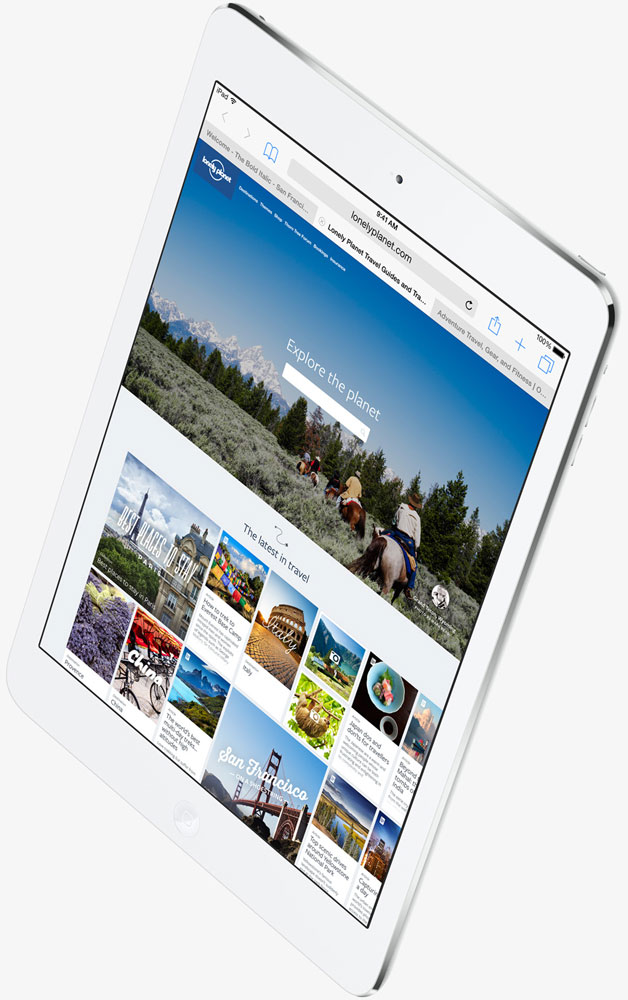 Advanced wireless.
Make better connections wherever you go.
Your new favorite app, book, or movie. Your next FaceTime call or iMessage. Ultrafast wireless lets you access the things you love, right from iPad Air. So more than ever, you can stay in sync and in touch.
Ultrafast WiFi.
iPad Air gives you up to twice the Wi-Fi performance thanks to two antennas and MIMO (multiple-input multiple-output) technology. With dual-band (2.4GHz and 5GHz) 802.11n Wi-Fi and MIMO, download speeds can reach up to 300 Mbps — double the data rate of the previous-generation iPad. So now when you want to download a movie, share photos or documents with AirDrop, or just browse the web, your connection is even faster than before.
More LTE bands.
iPad Air with Wi-Fi + Cellular lets you connect to the Internet even if you're away from a Wi-Fi signal. iPad Air supports even more LTE bands to connect to more cellular data networks around the world.2 Now you can get online at really fast speeds — faster than broadband in some cases — in more places. And plans are flexible, so you don't have to sign a contract. Some plans even let you share data across multiple devices.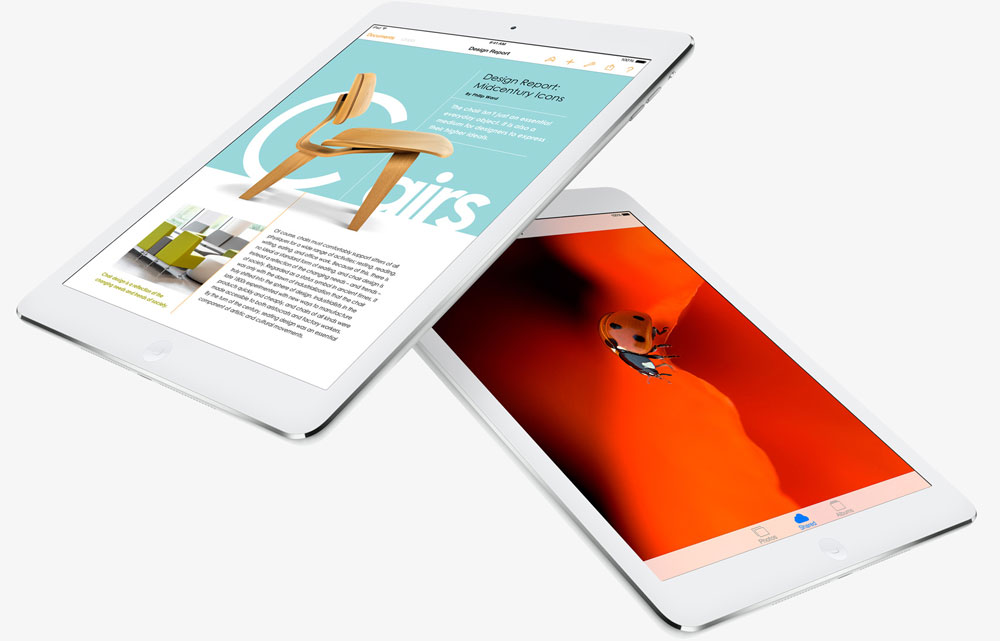 Great apps included.
Comes ready to work. And play.
iPad Air is the perfect everyday companion. Because it comes with apps that help you do the everyday things you love to do, like check your email, talk to Mom over FaceTime, or consult Siri to settle a bet. And now iMovie, GarageBand, Pages, Numbers, and Keynote are free with iPad Air.3 So you can write the next great novel, nail your presentation, and compose a score for your home movie — all from your iPad Air. And all these apps are optimized for 64-bit architecture. So they run smoothly and powerfully, and make iPad Air — and you — more capable than ever. From the moment you turn it on.
FaceTime and iSight cameras.
A few new reasons to smile.
FaceTime HD camera.
Sometimes it's nice to put a face to the conversation. And with FaceTime video calls on iPad Air, your conversations never looked better. Make a video call over Wi-Fi or cellular and see (or show) every expression on the beautiful display.4 And now the FaceTime HD camera features a next-generation backside illumination sensor with larger pixels. Which brightens up all your FaceTime chats, selfies, and group Photo Booth shots, even in low-light situations.
5MP iSight camera.
We think about what goes into a great shot, so you don't have to. The 5-megapixel iSight camera on iPad Air was designed to help you capture all of life's moments at a moment's notice. Use the Retina display as an easy viewfinder to frame the perfect shot. And quickly swipe between capturing stills or 1080p HD video. Every time you shoot, the image signal processor in the A7 chip works with the camera to make a ton of adjustments and deliver a great picture or video — automatically. You don't have to think about anything other than who you're going to share the moment with.
Dual microphones
iPad Air hears where you're coming from. That's because it has two microphones. And they don't just collect more sound — they work together to capture better sound by suppressing audio from the source you're not focused on. So the audio on FaceTime calls is improved because there's less background noise. Your video recordings sound clearer. And Siri is even better at recognizing what you're saying.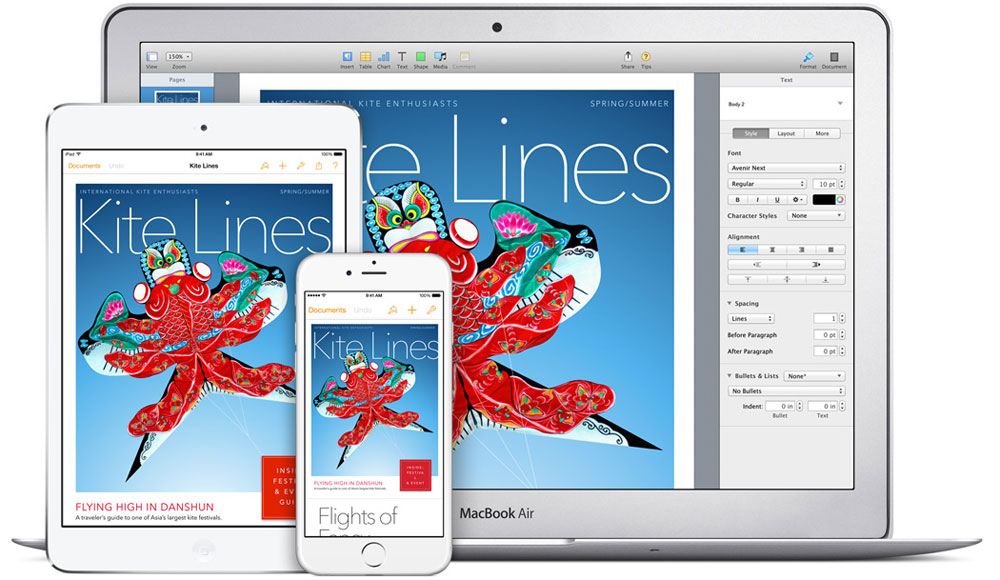 iCloud. Everything you need.
Anywhere you need it.
iCloud keeps all your content synced across all your devices — automatically. It's seamlessly integrated with your devices, so you can start a Pages document on your Mac and finish polishing it on your iPad Air. The pictures you shoot with your iPhone appear instantly on iPad Air thanks to iCloud Photo Sharing. Or start watching a movie on iPad Air on the train and pick up right where you left off at home on your Apple TV.
AirPlay, AirPrint, and AirDrop.
Share over the air. Right from your iPad.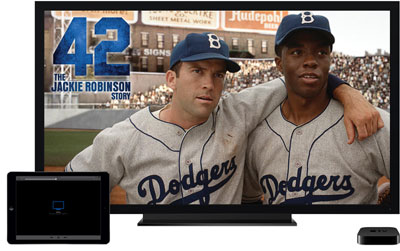 Stream via AirPlay
Go from the small screen to the big one with AirPlay. You can wirelessly stream movies from iTunes and all the great stuff on your iPad Air to your HDTV via Apple TV. Turn on AirPlay Mirroring and show photos from your road trip, blast aliens with your friends, or give a class presentation. You can even play DJ by streaming playlists from your iPad Air to AirPlay-enabled speakers over Wi-Fi.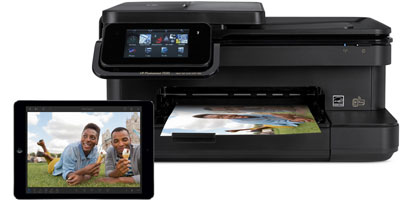 Print via AirPrint
If you have to print something, you can do it right from iPad Air. Print to any AirPrint-enabled printer over Wi-Fi. There are no cables to connect or drivers to download. Just tap the Print icon in AirPrint-compatible apps like Mail, Safari, Pages, Keynote, Numbers, iBooks, and iPhoto. And just like that, what's on your iPad Air becomes the printed page.
Share via AirDrop
AirDrop is a simple way to share content on your iPad Air. You can quickly send photos, videos, contacts, and more to any iOS 7 user nearby. There's no setup required and no email addresses or phone numbers to store. Just tap the Share button, see who appears on your display, then choose who you want to send to. If someone sends you something via AirDrop, just click Accept when a notification appears on your iPad Air. AirDrop automatically creates a secure connection using Bluetooth and Wi-Fi and delivers content right away.
1. Performance compared with previous generation. Battery life varies by use and configuration; see www.apple.com/batteries for more information.
2. Data plan sold separately. LTE is available in select markets and through select carriers. Speeds will vary based on site conditions. For details on LTE support, contact your carrier and see www.apple.com/ipad/LTE.
3. iMovie, GarageBand, Pages, Numbers, and Keynote are free on the App Store for qualifying iOS 8 compatible devices with initial activation on or after September 1, 2013. See www.apple.com/ios/whats-new/ for iOS 8 compatible devices. Downloading apps requires an Apple ID.
4. FaceTime calling requires a FaceTime-enabled device for the caller and recipient and a Wi-Fi connection. Availability over a cellular network depends on carrier policies; data charges may apply.
Compare Offers for Apple iPad Air 9.7″ Tablet 16GB
Price History
Price history for Apple iPad Air 1st Gen. - 16GB - Wi-Fi, 9.7 in - Space Gray (MD785LL/A) see pics

Latest updates:

$99.99 - July 3, 2021
$119.99 - May 12, 2021

Since: May 12, 2021

Highest Price: $119.99 - May 12, 2021
Lowest Price: $99.99 - July 3, 2021